As a Google for Education Partner, the Promethean ActivPanel carries features that allow you to seamlessly interact with content from all of your Google apps. The Promethean ActivPanel is purposefully built for collaboration and therefore, ideal for the Chrome OS environment with or without the Chromebox. Using a traditional or flipped classroom model is easy when everything from your Google Drive is easily accessed on your ActivPanel. Promethean and Google help bring your content and student work to life on the dynamic ActivPanel interactive display and launch your lessons to a new level.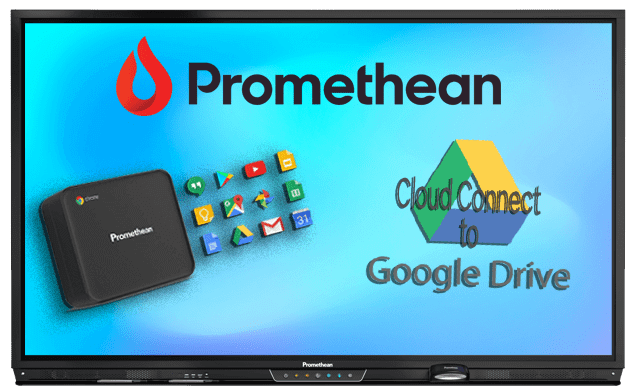 Connecting to your Google content on the Promethean ActivPanel
The classroom has changed recently to make use of a myriad of digital tools that are useful to both teachers and students. The need for sharing materials through cloud-based systems has increased and Promethean, partnered with Google, makes that easier than ever. Connecting your ActivPanel to your Google Drive gives you instant access to your saved material and allows for a truly dynamic classroom environment. Pair your Goggle Docs and Slides with the Classroom Essential apps, like Annotate and Screen Capture, using the best features of both Google and the ActivPanel. Saving Whiteboard lessons as a PDF to the connected Google Drive makes it a breeze to share with students and allows interaction outside the classroom walls.
Adding images from your Google Drive directly to the Whiteboard app is yet another of the many ways you can use your drive connected to the ActivPanel.
Select Owner from the Unified Menu
Tap the cloud icon
Select Google Drive
Follow the steps to sign in with your Google credentials
Access your Google Drive files from within the Locker by tapping Files
Accessing Google Classroom from the ActivPanel
Google Classroom has many tools that make it easy for students to interact with content and share it with their classmates and teacher.
Accessing Google Classroom at your ActivPanel can be seamless for both teachers and students. You may sign into your Google Classroom account using the app. Meanwhile, students can access their Google Classroom accounts via the Chromium browser that is preinstalled on the ActivPanel.
You can easily save content to the ActivPanel and schedule it via Google Drive directly from the ActivPanel.
Creating a center with an interactive classroom displayed on your Promethean ActivPanel is just another way to increase student engagement and entice students to discover content in a novel way.
Using Google Apps on the ActivPanel through Cloud Connect
In this ever-connected world, we have learned that real-time collaboration can happen in the classroom with living documents and presentations shared with students. Using the Google Classroom tools on your Promethean ActivPanel allows you and your students to create and edit in real-time right from your front of classroom display. Students can take an active part in the creation and editing of documents, sheets, and slides through the shared capabilities of the Google Classroom App suite. Both Promethean and Google are committed to advancing learning for all students and the interactivity provided through cloud-based technology accessible on the ActivPanel makes this goal a reality. Interaction with material both inside and outside the classroom through Promethean Google Cloud Connect increases equity and accessibility for all student learning needs and situations.
Digging Deeper
Free professional development can be found on Learn Promethean. There you can dig deeper into the Promethean and Google partnership with a free, self-paced course on making the most out of your ActivPanel with Google features.