Teachers and students alike love the Promethean ActivPanel for its many outstanding features. One of the most beloved features is the Promethean Whiteboard, or PWB. Today's article is robust with dynamic content to get you excited to begin creating lessons and using your Promethean Whiteboard in ways you may not have thought of yet, but will find you cannot live without.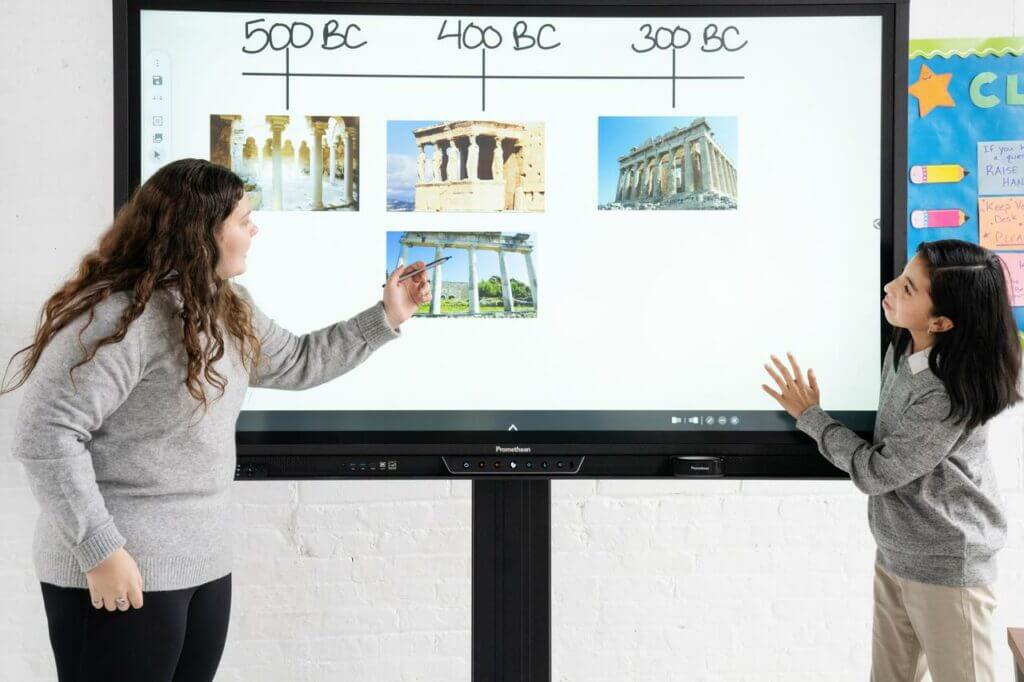 You might already know how the whiteboard's infinite canvas allows for fantastic on-the-spot teaching. However, the intuitive capabilities of the Promethean whiteboardoard hold much more power for you than just this.  The Promethean Whiteboard has some amazing tools built into its interface, allowing you to create ahead of time and save for future use.  The PWB can also assist you in the delivery of engaging and interactive lessons using already created content from powerful programs like ActivInspire and many other sources.
Built-in features
The Promethean White Board (PWB) is chock full of preloaded features that you can tap into at any time.
Creating lessons with the Promethean Whiteboard tools
Do you need a music staff, some grid paper or even line paper to help you and your students during lessons?  The Whiteboard affords you several options for tailoring the background while working.  The backgrounds and line colors are changeable and the stretch feature allows line sizing to be adjusted.
The Promethean White Board comes preloaded with charts and templates and has a robust menu with many tools for creating lessons to ignite a desire to participate.   Any of the charts and templates can be quickly added and resized for your needs.  If you have saved any images to your ActivPanel via the Screen Capture app or through other methods, those are available for use in the Promethean whiteboard as well.  Have some PDFs that you would like to include? Either take a screen capture when opened on the ActivPanel or save it as an image file and load it via a USB drive.  All images saved directly to the ActivPanel can be added to a whiteboard lesson and resized in the whiteboard.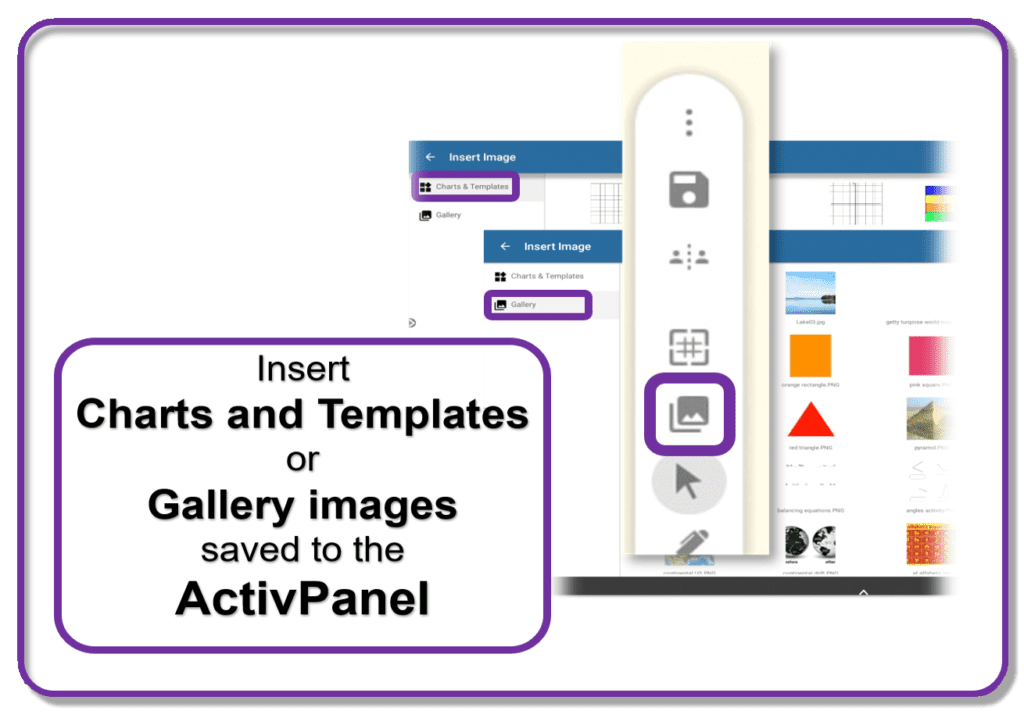 One of the best-loved features on the Promethean Whiteboard is the math tools. Here, Education Consultant Katie Marx walks you through these amazing tools in a Facebook Promethean Cares segment.
Using other programs to create whiteboard lessons
Do you have lessons created in ActivInspire or programs like PowerPoint and you are looking to use them within the PWB? No problem, saving them as images allows them to easily become a part of your whiteboard lesson.
ActivInspire, Promethean's powerful lesson delivery software gives many options for creating and saving content to be used in interactive whiteboard lessons. Simply export all pages of the flipchart, to JPEG (.jpeg) onto a USB drive. Inserting the USB drive into a USB port on the ActivPanel allows all the exported content created within ActivInspire available to be easily loaded onto the Promethean Whiteboard canvas. A similar procedure can be followed when using other lesson delivery software such as PowerPoint. Any images saved in the JPEG format are compatible with the Promethean Whiteboard App.
When adding images to a Promethean Whiteboard lesson there are some nuisances to keep in mind. Added images stack on top of one another, no matter where they are placed on the canvas. Meaning, the first image to be placed on the canvas will be on the bottom. The feature allows for images to be moved in front of or behind other images.
The possibilities for content creation are as endless as your imagination: 
Hide sight words behind another image and have students "fish" them out and recite the words.
Need to compare characters in a story, how about a Venn diagram? Save the discussion and content to revisit during another class period.
Try using some of your worksheet content and build out a whiteboard lesson. Using the infinite canvas allows you to create one whiteboard for an entire day, week, or unit.
Create some angles in ActivInspire, save them as JPEG images, and add them to the whiteboard canvas. Students can use the protractor in the math tools and measure the angles.
Save time by creating an attendance chart to be used daily, or even a lunch choice menu.
The Promethean Resource Library also houses whiteboard files for your use. Simply search Resources > Resource type > Whiteboard files.
In another Facebook Promethean Cares segment, Education Consultant, Jacob Wirth creates an easy whiteboard activity.
Saving and accessing whiteboard activities
Saving Promethean Whiteboard files is easy. Access save options by selecting the three vertical dots from the whiteboard menu. Keep in mind, .pwb files can only be opened on an ActivPanel. Saving the whiteboard as a PDF allows you to share the PDF file with absent students or colleagues or even use as a lesson plan template as you present.
Are you ready for a deeper dive? Education Consultant and Camp Promethean Counselor, Xan Roberti spends a 30-minute session expertly guiding you through the process of creating a highly interactive Promethean Whiteboard Lesson.
Gain even more skills