Recording your lessons and sharing with your students doesn't have to be a difficult and pricy feat. Flipping your classroom, providing lesson recordings for your remote learners, creating content for students that are absent, or even just saving time by creating content that can be re-purposed year after year are just a few of the many benefits of recording your lessons. It's no surprise that online video content is here to stay, and sharing your lessons is as easy as 1…2…3.
Record Your Lessons
Using ActivInspire's Screen Recorder, use fullscreen mode to capture your lessons and save the file to your computer.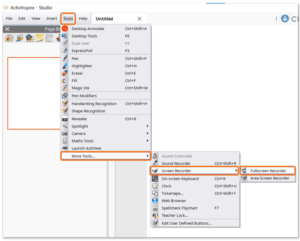 Upload to YouTube
Create a YouTube channel and upload the saved video to your channel. Stewart Lee, the Director of Instructional Innovation and eLearning in Iva, SC shares an informative tutorial on how to set up a YouTube channel for your classroom. Check it out here.
Share with Your Students
Copy the link from YouTube and post the link to your LMS, classroom page, or other student communication portal.
Check out how high school science teacher Jamie Stephans from Pittsburgh, PA uses the Screen Recorder in ActivInspire to record lessons for her YouTube channel:
Animate your recordings even more by adding a webcam to your set-up and record live from the ActivPanel using your favorite video recording app.
Get started with ActivInspire by completing this free Introduction to ActivInspire course and earning your certificate.