The ActivPanel Elements series continues Promethean's 20+ year tradition of developing purpose-built products that are designed by teachers, for teachers.
Thoughtfully crafted from the ground up, the ActivPanel Elements series interactive displays for schools are based on extensive user research to deliver innovation and ease-of-use that matters to teachers and students, as well as the security and manageability trusted by IT professionals and administrators.
What separates the two ActivPanels?
ActivPanel Titanium
The ActivPanel Titanium has a center console that sits at a comfortable 30 degree angle and has easy-to-read buttons for managing panel interaction — including freezing, turning touch on and off, volume controls, and quick power on and off when combined with our proximity sensors.
When the two proximity sensors on the sides of the ActivPanel Titanium sense someone nearing the panel, the power on process begins. All a teacher needs to do is press the power button on the center console and the ActivPanel screen turns on in less than a second!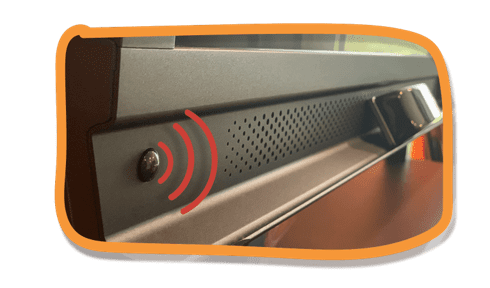 Other key features of the ActivPanel Titanium include:
20 points of touch
Pen and touch differentiation
4 GB of RAM
64 GB of internal storage
15-watt bass-enhanced speakers; the ActivPanel Titanium 86″ has 20-watt bass-enhanced speakers
Available in 70", 75", and 86" sizes
Truly, the ActivPanel Titanium is a powerful, out-of-the-box, STEM/STEAM-ready solution. It delivers the most seamless, integrated, and interactive learning experience available for K-12 settings.
Here are additional documents regarding the ActivPanel Titanium:
ActivPanel Titanium Marketing Flyer
ActivPanel Titanium Specification Sheet
ActivPanel Nickel
Simply turn it on and teach! The ActivPanel Nickel is our foundational, all-in-one interactive panel designed for K-12 schools on a budget.
Key features of the ActivPanel Nickel include:
15 points of touch
Front access buttons, including Power, Unified Menu, Source, and Volume
15-watt speakers
2 GB of RAM
16 GB of internal storage
Available in 65", 75", 86" sizes
Here are additional documents regarding the ActivPanel Nickel:
ActivPanel Nickel Marketing Flyer