'…gamification and game-based learning are a couple of tactical teaching trends that are here to stay due to more intuitive and interactive learning experiences.'

Matt Cole
Sr VP Americas, Promethean
Most teachers have used common games in a new way, hoping to bring higher levels of engagement to their lessons. However, the classroom today is filled with digital natives and likely these students enjoy digital gaming. While you cannot always make everything a game for them, there are many simple things you can add to add bring a game-like atmosphere to your lessons.
Today's digital natives see technology as a means to communicate with others and are often driven by connection to the material they are learning. Since they are so accustomed to working within a gaming atmosphere they often are able to make deeper connections with the course material when they are able to experience it in a fun and engaging way.
ActivPanel Classroom Essential Apps
The Promethean ActivPanel comes filled with simple apps to help you gamify any lesson. Use the Spinner to randomly select, or the Timer to add a sense of urgency bringing a feeling of gamification to any content.
Why not try using Spinners to randomly choose teams or even to select subject content? Try adding a spinner with settings, characters, and other literary terms to have students write a random story or play, similar to the old favorite, Mad Libs. This is so much fun to do in small groups and have the students present them to their classmates.
Try the same idea with different mathematics formulas, simple math problems or matching solutions.
You could also use the spinners for students to choose the review game before assessments. The choices are endless with the Spinner and Timer on your ActivPanel.
You could even build a sentence in world languages with one spinner for the subject pronoun, another for the verb, and another with predicate ideas.
Combine the spinner with the white board multi-user mode to challenge students to spin and solve, draw the meaning, write, or translate.
Another great Classroom essential app that adds a feeling of gamification for any review is the Activity player. Activities can be created in Classflow or ActivInspire to create a fun game-like review activity. The activities you create are easily loaded to a USB drive or your Google or OneDrive for opening with the Activity Player App.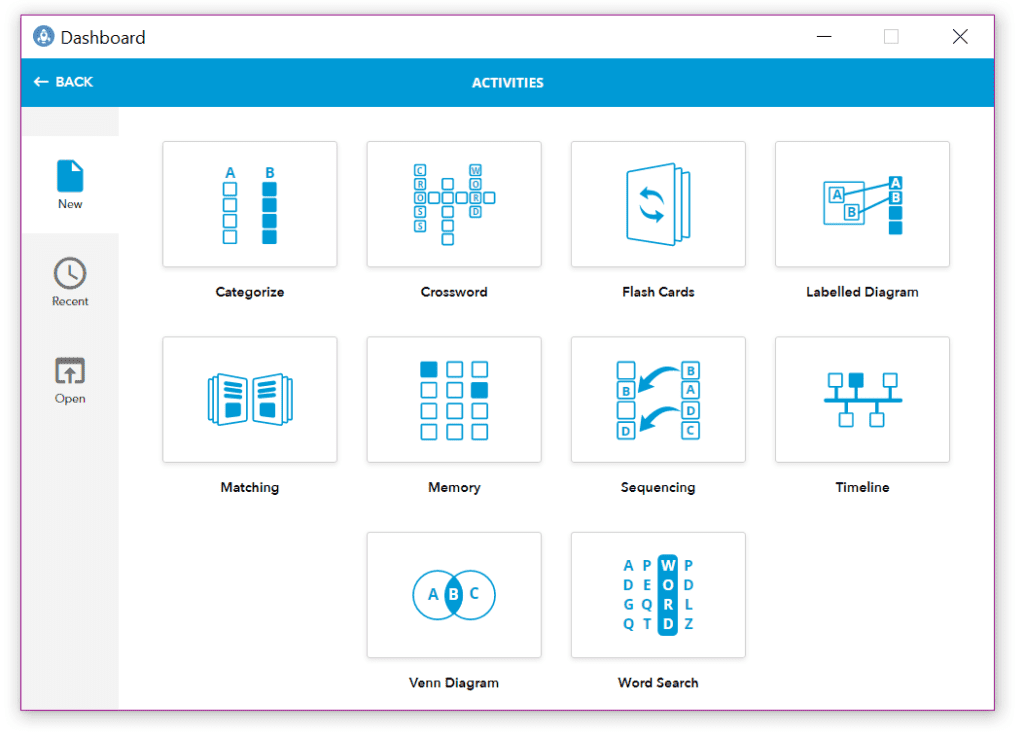 Use your ActivPanel for online games
The built-in Chromium Browser available on the ActivPanel makes using Kahoot!, Quizizz, Quizlet Live, Gimkit, and Blooket. These game sites are a great way to bring competition and gamify your lessons. Other sites create a real immersive feel, like Minecraft Classroom Mode and Breakout EDU.
Badging and points
Badging and points are often overlooked when thinking about gamification. These, however, are a simple way to gamify any content. Many programs allow you to create and print badges for students but, in keeping with the digital theme for our digital natives, Classbadges allows for them to be delivered digitally.
Creating online "boss battles" or "quests" is also a great way to gamify content. A "boss", is a villain who the hero must beat to save the day or head to the next level. On the gamification platform Classcraft, you can create your own boss battles and quests using questions from any subject area. You can also create boss battles using Google Forms, Google Slides, or Office 365 tools to create your own unique fictional boss battles or quests. You could even have students engage in creating them for their classmates to engage with.
Use your Promethean ActivPanel
The Promethean ActivPanel is proven to boost student engagement. Using your ActivPanel, you will see that students will become more engaged, with the gamification front and center, everyone has access to the fun. Matt Cole, Senior Vice President, Americas Market, Promethean, dicusses gamification in this article in Ed Tech Digest.
Extend your learning: